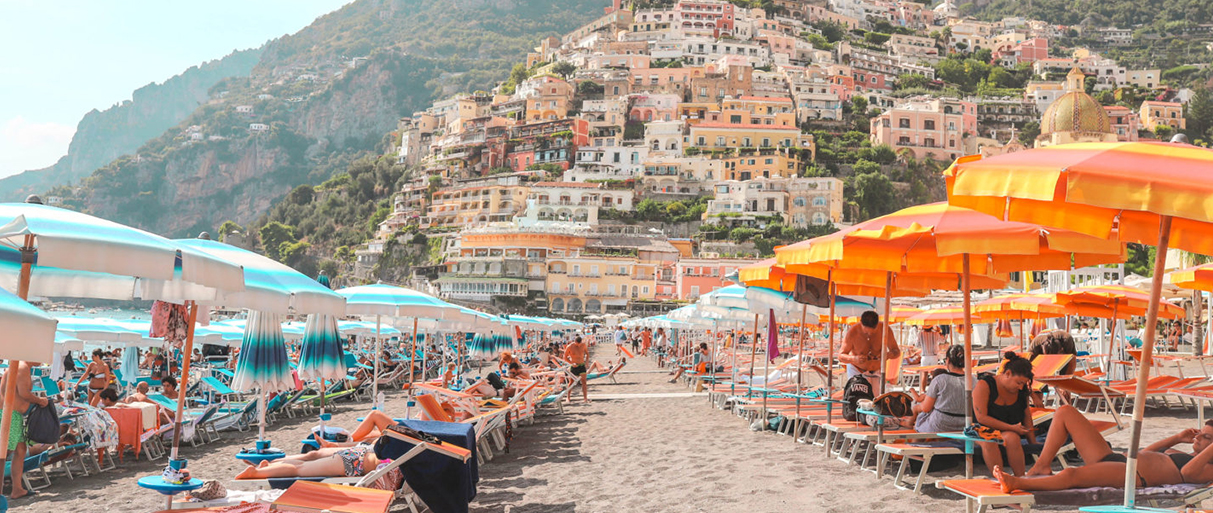 Offering probably the most picturesque view in the whole of the Amalfi Coast, Positano – a former fishermen's village turned into a fashionable jetset destination, climbs up the cliff in a feeria of pastel coloured buildings and streets. Named "the vertical city" due to its location on a steep shore above sandy beaches of the Mediterranean Sea, Positano is an architectural gem, original and elegant, cosy and exclusive without unnecessary excess.
The place became a tourist destination after the second world war but it was not until 1950s that it had been regularly flooded with tourists of all sorts – the jet setters, the bohemian artists, the hippies – everyone who heard about the unique beauty of this Mediterranean destination wanted to walk its narrow streets, to wander around the artisan's shops filled with typical ceramics, white linen and colorful clothes.
The arrival of tourists created the need for dressing them. Positano did not import fashion – instead, it's created a style of its own, later on referred to as Moda Positano. Pastel coloured roomy blouses, long skirts and handmade sandals, all made of light natural materials such as linen and cotton, adorned with macrame lace and hand-dyed.
White linen or cotton dresses, of mini and maxi length, are core creations of many local fashion brands. Well established for about four decades, they seduce with innocent pure designs made of intricate embroidered materials trimmed with macrame lace.
However, the first original fashion item manufactured and sold in Positano since late 1950s was the bikini. It was crocheted of wool in signature bright colours and often adorned with crystals and pearls or elaborate embroideries. The bikini was a huge success and this cosy hippie style soon won itself a number of enthusiasts all over the world.
Since it was nearly impossible for the stylish city roamers to climb the steep alleys in high heels, the local artist shops began offering elegant and comfortable hand-made leather strappy sandals, which became yet another style staple that originated in Positano in 1960s.
Socialites and stars of the era, such as Brigitte Bardot and Jacqueline Kennendy-Onassis, gracefully propagated the casual holiday chic referred to as the Positanese Style – based on comfortable and light clothes made of natural materials in bright colours, simple white frilled dresses, roomy skirts, floral print total looks, and linen attire head to toe for men, finished with sporty moccasin loafers.
Fashion has quickly reached the sunny beaches near Positano – first with the famous Positanese Bikini, then inevitably followed by all sorts of beach attires – kaftans, pareos and cover-ups. For better protection from the southern sun, wide brim straw hats and turbans completed the look.
Suzana Perrez, as a dedicated admirer of the southern style, has drawn inspiration from the Amalfi Coast colours and influences, its elegant yet laid back atmosphere expressed in relaxed designs and undertone but undeniable style. The result of this fusion is the Chiara Portofino Kimono Cover-up, mix of turquoise and fuchsia so typical for the Positano surroundings. Wear Chiara on your trip to this fabulous Italian destination or to make yourself feel like you are already there by simply putting it on.
SHOP HERE: