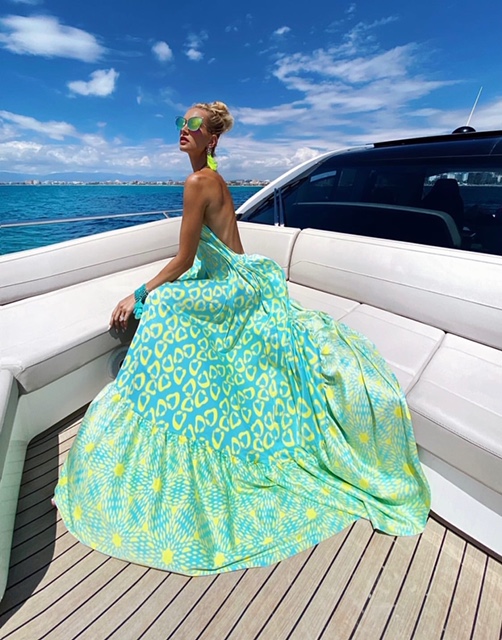 What item of clothing would pertain for the title of an ideal summer outfit?
Can there be just one universal choice or is it a matter of individual preferences?
Shorts, capri pants, skirts, or dresses.
Since we don't make skirts and trousers (yet), let us inspect the theme of a dress.
The options and categories are numerous.
Formal versus informal.
Tight versus loose cut.
Bright versus dark.
Colorful versus plain.
Apart from that, in comes a matter of personal preferences, restraints with regard to figure and age (still, but far less than it used to be), location, occasion and something that might be referred to as a kind of flexibility towards trends in fashion.
Let us take a closer look at the above opposing possibilities.
Can formal and informal look even be discussed in terms other than some external and well understood circumstances that impose a particular dress code? Probably not.
What is negotiable in this aspect may contain in the level of formality. A rule of a thumb has it that is always better to be slightly overdressed for the occasion than even a bit underdressed.
Can a summer dress be elegant and raise to the standard of formality?
Naturally yes, depending on length, style, colour and accessories.
A backless maxi dress from our collection, paired with heels and a jacket, will make an effortless transition from casual to formal thanks to clever accessorizing. Think a garden party, a meeting at a hotel café or exclusive shopping.
Loose or tight? Some women choose their favorite style and make it their trademark. Others put no limits to the variety of their outfits and freely switch between lengths and shapes. Which of these are you, dear reader? A lover of lengths or a fan of body-con minis? Or a savvy fashionista expertly switching from one style to another? Either one you might be, you are bound to fall in love with our collection of maxi dresses. Incredibly light and soft, tailored from a bespoke fabric that will caress your body as you move around, providing volume and a flattering definition to your curves as the material floats on the wind.
Hot summer days call for bright outfits. Fair fabrics keep us cool and expose tanned complexion. Bright and juicy colour mix proclaims holiday time as much as a tropical umbrella drink. Will you yield to this overwhelming trend and give up on your plain colour items, keeping them for the purpose of accessorizing or to contrast with the mix and match of brightness? And this is the most natural choice. Still, we at Suzana Perrez respect your determination to be consistent with your personal style and for those who stick to solid colours we offer our maxi dress in deep black.
You are welcome 🙂
Back to the question, is the best, most versatile, elegant and comfortable summer outfit – a dress?
We truly believe it is and offer you an entire collection to choose from.
Suzana Perrez Maxi Dress Collection is a "single style, four colour version" design that allures with elegance and comfort. The three bright pattern styles match pistachio and yellow, purple and orange and turquoise with orange on a bespoke ultra-light, cool-effect fabric. A universal cut with adjustable strap tied on the neck and seducing open back, hidden pockets and a massive frill will steal your heart and make this piece your favourite one all summer long. Charming black Salma Dress addresses those women who do not compromise their love for solid colours. Deep black version of our bespoke fabric will act light and comfortable at any occasion.
Visit our website www.suzanaperrez.com and choose your favorite maxi dress.