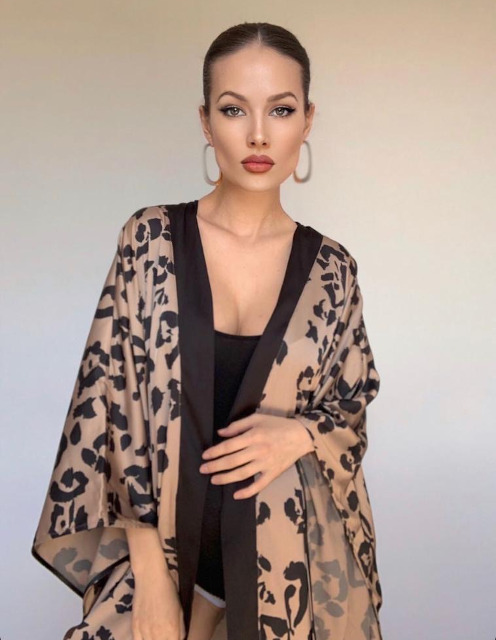 Cover-ups, wrap-arounds, throw-overs – the idea is all about effortless putting something on for a while to walk around, eat or meet someone in ircumstances where negligee is simply too much. Whether at home or at a resort, if you are after a smooth stylish piece with an outstanding design, Suzana Perrez kimono offer is all you need, and much more than that.
Imagine a lazy weekend morning at home. Breakfast and coffee. When time passes slowly and there is no need to check it because there is nowhere you must hurry. How else to celebrate a time like this if not by wearing an outstanding yet simple and comfortable outfit? And here enters the cover-up – easily thrown over pajamas or underwear. Whether you serve breakfast to your beloved ones or enjoy a cup of tea or coffee all by yourself, make this experience even more valuable by expressing your exquisite taste and indulging yourself with an amazing homewear piece.
A relaxing read in bed or a peaceful unwind after an active day at work – never give up on stylish attire. Let yourself be spoiled by exclusive soft fabric and eye-catching prints. The easy comfortable feeling will be your personal reward you grant to yourself after a successful day, along with aromatic candles or a glass of wine. Seduce your dear other half with nonchalant ease as you stroll around the house wrapped-up in the top quality designed alluring piece.
Fancy you are staying at a hotel and your room service arrives. Your formal attire has been stoved in the closet and you are about to call it a day with in-room dining and a bottle of wine. Suppose you are not an enthusiast of frotté bathrobes and simply cannot stand the idea to have a stranger meet you dressed like that. Suzana Perrez kimonos, on the other hand, ideally fit the circumstances and make you look fabulously chic and relaxed.
Last but not least, the natural surroundings for cover-ups is the beach and poolside area. As long as stretching over a deckchair or slowly strolling alongside the waterline, waves caressing your feet at regular intervals, the only thing that covers you is the double set of triangles in your bikini or a stylish one-piece. However, when moving around the resort or heading for a lunch break to a beach or pool-side restaurant, covering oneself is a must – and opportunity to show off your wardrobe. Indispensable here is a stylish, colorful and eye-catching outfit easy to slip on and throw off. Preferably made of cool slippery fabric and cinched around the waist. Suzana Perrez kimono style enters the scene perfectly and stays in with you forever. Ultra-chic and ultra-light, with fashionable sequin patches and dangling tassels to balance the hem and make it graciously dance around your legs while you are moving.
Suzana Perrez kimonos offer numerous possibilities to style a cover-up. Choose your favorite design and wear it anytime you want – at home, while traveling and definitely at the beach where they belong. Be a Goddess in your own universe.